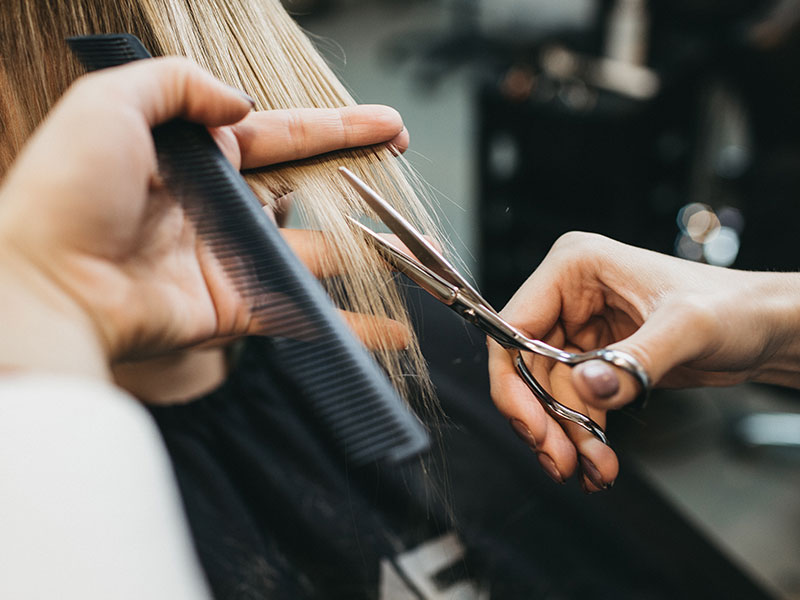 Hair cutting or hair trimming is intended to create or maintain a specific shape and form. Its extent may range from merely trimming the uneven ends of the hair to a uniform length to completely shaving the head.
The overall shape of the hairstyle is usually maintained by trimming it at regular intervals. There are ways to trim one's own hair but usually, another person is enlisted to perform the process, as it is difficult to maintain symmetry while cutting hair at the back of one's head. Although trimming enhances the hair's appearance by removing damaged or split ends, it does not promote faster growth or remove all damage along the length of the hair.
Stylists often wash a subject's hair first, so that the hair is cut while still slightly damp. Compared to dry hair, wet hair can be easier to manage in a cut/style situation because the added weight and surface tension of the water cause the strands to stretch downward and cling together along the hair's length, holding a line and making it easier for the stylist to create a form.

Haircut Pricing
| | |
| --- | --- |
| Service | Price |
| Women's Haircuts | $75.00+ |
| Men's Haircuts | $40.00+ |
| Teenager Haircuts (13-18) | $45.00+ |
| Kids Haircuts (0-12) | $30.00+ |
| Bang Trim | $10.00+ |
| Dry Cuts | $45.00+ |
All of the stylists at Exclusive Spa are individually priced.
Please call us at 707-528-8266 for specific details.