Spray Tanning
Santa Rosa, CA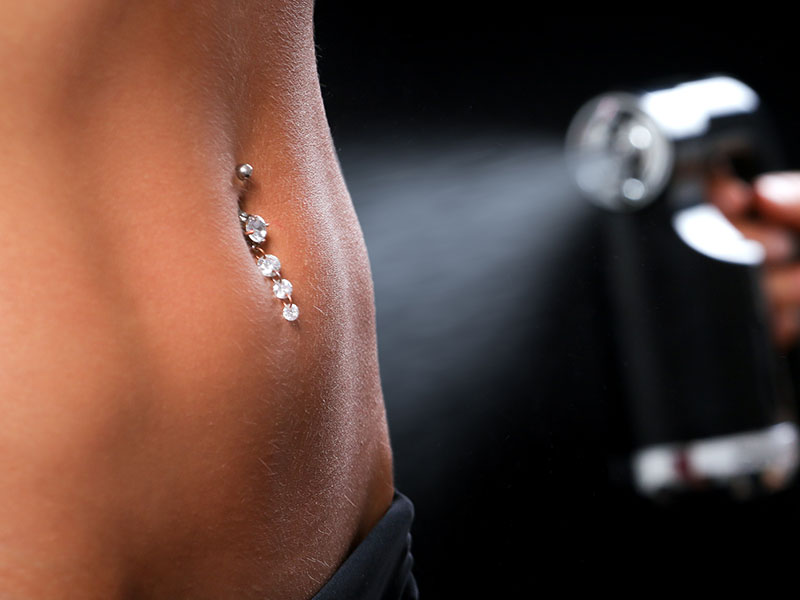 Spray tanning is a one of the newest available ways to get a perfect tan, without exposure to UV rays produced by the sun and tanning salons. A dihydroxyaceton (DHA) tanning solution, 100% safe and FDA approved is evenly applied to your body by one of our trained technicians.
Advantages of Sunless Tanning
There are many reasons why spray tanning is superior to traditional sunbathing and UV tanning beds. On one level it is very convenient, with the entire process completed at Exclusive Spa. We also offer mobile spray tanning where we come to your home. The entire process takes about a 30 minutes. The most important reason sunless tanning is superior has to do with UV radiation and your health. While a great tan from the sun or tanning salon may give a great appearance of youth and health, you are actually receiving long term effects that achieve the exact opposite. Over time and with repeated exposure, UV rays break down the collagen (elasticity) in your skin, accelerating the aging process. Risk of skin cancer increases over time as well.Now that everyone is aware of the sun and UV ray's harmful effects there should be no reason not to try a safe alternative.
Longevity of a Spray Tan
How long your tan lasts can depend on both your individual skin type and how well you moisturize afterwards, but typically it will be between 7-10 days. Additionally, tan extender is a special lotion containing DHA, which will further prolong the tan, and we always keep tan extender(s) available for purchase at the time of your appointment.
Tips for Spray Tanning
Before your spray tanning appointment
To get the best and longest lasting results from your tan, you should lightly exfoliate your skin and shave or wax at least 8 hours prior to your appointment. Spraying onto a fresh and healthy layer of skin ensures that no bits of the tan flake off, and that you get even coverage. You also do not want to use any sort of makeup, moisturizer, deodorant, or lotion products because they prevent the spray from contacting the skin and the tanning process cannot take effect.
During your spray tanning appointment.
You can dress to expose whatever areas you want tanned, and going completely nude is acceptable as well. Many people will choose to wear a bathing suit, and we also have disposable bottoms and disposable hair caps available. The topical bronzer in the solution may rub off on clothing, so a darker color may be preferred just to be safe, but the solution will also wash out of most fabrics. String bikinis can often result in uneven lines, so it is not recommended that you wear one during your session.
After your spray tanning appointment.
You should wait a minimum of 8 hours before doing anything that could contact your skin with water or cause you to perspire. So things like showering, exercising, or using a pool should not be done during this period. You should also plan accordingly if the weather could be rainy, as you don't want to get caught outside.The most important step you can take to care for your tan is to continually moisturize your skin. Starting the day after your tan is applied you should moisturize in the mornings and evenings on a daily basis. Some additional things you can do is to avoid using Dove brand soap as well as moisturizers containing AHA (Alpha Hydroxy Acid). Avoid chlorinated pools and hot tubs and avoid taking long hot showers and baths.

In-salon Spray Tan Pricing
| | |
| --- | --- |
| Number of Sessions | Price |
| 1 session | $45.00+ |
| 5 sessions | $165.00+ ($60.00 savings) |
| 10 sessions | $345.00 ($105.00 savings) |

Mobile Spray Tan Pricing
| | |
| --- | --- |
| Number of Sessions | Price |
| 1 session | $75.00+ |
| 5 sessions | $160.00+ ($215.00 savings) |
| 10 sessions | $340.00+ ($410.00 savings) |